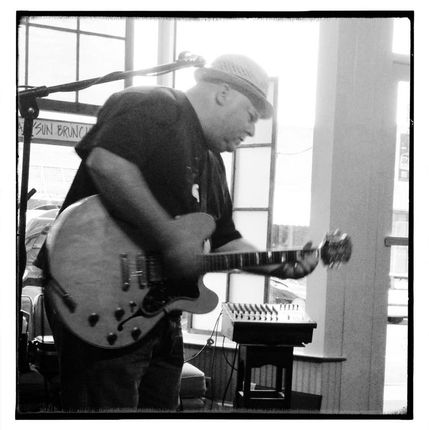 The Basics...
Saturday's Radio is Rob Christensen's ongoing indie folk / folk rock / power pop / Americana music project. Christensen has been musically active since the early 1990's and cites R.E.M., Wilco, Bob Dylan, Neil Young, Tom Petty, The Replacements, The Beatles, and countless others as influences. He's recorded several well-received albums and has performed live in various spots all over the U.S. He currently resides in Margo, Virginia.
The Past...
Christensen was raised in the tiny Northern California town of Ferndale (one of his schoolmates was the Food Network's Guy Fieri). After high school graduation he joined the U.S. Navy and lived three years on an aircraft carrier in Norfolk, VA. He had a musical awakening during this time, seeing bands like the Replacements, R.E.M., Waxing Poetics, X, Ziggy Marley, Warren Zevon, Let's Active, Jane's Addiction, and many more. He read lots about music and musicians, bought hundreds of records, and found a path to pursue. At the relatively late age of twenty he bought his first guitar and soon after bought a Tascam 4-track recorder.  
Upon returning home from the Navy to California, Christensen started making crude cassette albums at home, developing his songwriting, instrumental, and arranging skills. In 1992 he formed an alt-rock three-piece band, the Orphans, with Brian Williams on bass and Justin Hobart Brown on drums.
After the Orphans project ran its course Christensen concentrated more on recording. In September 1994 he released Smile Slightly, an album filled with songs of twenty-something angst. It was "the first album that I felt was good enough to share with the world." These suspicions were reinforced when Smile Slightly got positive reviews. (One read, "like a Tom Petty listening to the MC5 on his Walkman while strolling through town on a Sunday night.")
Christensen spent 1995 and 1996 performing with the Arcata, CA songwriting collective Joosy Froot as well as writing and recording the songs that would eventually form his second album, The Truth Hurts. Truth, released in January 1997, was a sparse, acoustic-based affair about heartbreak and failed relationships. Truth got excellent reviews and was compared to favorites Bob Dylan and R.E.M. It was followed by the acoustic live album At the End of the Day.
Christensen's third studio album, Opera Alley, was released in June of 2000. Opera Alley's songs were inspired by the classic pop of the Kinks, Beatles, and Beach Boys, as well as old favorites Neil Young and R.E.M., and dealt with crushes, male/female politics, disillusionment, and ultimately optimism. Opera Alley received more positive reviews and was called "one of my greatest discoveries of the year 2000" by one reviewer. Two West Coast solo-acoustic tours followed that summer.  
2001 was highlighted by a two-week tour through Virginia, DC, and Pennsylvania, and weekly shows at the cozy 321Coffee in Eureka, CA.
In 2002 Christensen decided to return to college to pursue a teaching degree. The period between 2002 and 2012 was filled with sporadic musical activity, alternating periods of artistic inspiration and disillusion, and plans made but not developed. 2005 saw the release of album number four, Roses For Sharon. Roses, like Opera Alley, was inspired by sixties pop-rock, but this time a theme of escape ran through the songs - escape from roots, negative situations, the past, and lost loves.
In 2006 Christensen moved from Northern California to Washington DC. Between 2006 and 2008 he performed in Tucson, AZ (at the prestigious Tape Op Conference), New York City, Washington, DC, and Chapel Hill, NC. 2009 saw a move to Virginia's Shenandoah Valley and live performances there. In 2011 Christensen moved to Orange, Virginia, and continued his career as an elementary school teacher.  
In early 2012 Christensen launched Saturday's Radio. "I was never comfortable with the idea of seeing my own name on posters and t-shirts. I realized I needed a buffer between me and my project." Over the course of 2012 he released remastered versions of his first three albums (Smile Slightly, The Truth Hurts, and Opera Alley) under the Saturday's Radio name, began putting up videos on YouTube, and revamped the Saturday's Radio website. In 2013 he completely remixed and remastered album #4, 2005's Roses for Sharon, and in early 2014 he released a remastered Saturday's Radio version of the 1998 live recording At the End of the Day.
The summer of 2014 saw the first ever cross-country Saturday's Radio tour, with shows in Portland, Northern California, Tucson, Austin, Nashville, Chapel Hill, and several stops in between. In 2015 Christensen performed in North Carolina, Tennessee, and Virginia and did some recording in Nashville. In 2016 and 2017 Christensen put on several solo-acoustic Saturday's Radio shows at home in Virginia and made trips to perform and record in Tennessee. During this time he also worked on songs for a new Saturday's Radio album.
The Present…
The fifth Saturday's Radio album, Ghosts, was released in December 2017. Its release was preceded by the Beach Boys influenced single "All That Shines" and followed by the singles "Once Upon a Time" and "Song for Sophie". Each single includes exclusive b-sides. Ghosts was inspired by middle age - reminiscing with and about old friends, relishing family time, examining past regrets, and correcting course for the future. Musical inspirations include late sixties Kinks ("Days Don't Last Forever"), country-mode Rolling Stones ("When I See the Light"), Drive-By Truckers ("The Backroads"), Velvet Underground ("Nothing's Broken"), Neil Young ("You Never Knew"), the Grateful Dead (the guitar playing in "Not a Local Girl"), and many more.
Ghosts, as well as all other Saturday's Radio albums, is available on all the major streaming services. CDs are available from CD Baby.
Rob Christensen & Saturday's Radio